The community of Corchiano is in the province of Viterbo, between the Tiber valley and the ancient hills of Cimino volcano, between Rome and the provincial capital of Viterbo. It is a village of about four thousand inhabitants, immersed in the rural countryside of Agro Falisco.

The land is mainly agricultural. Abundant in hazelnuts, vines and olives. In the deep valleys, scoured by many water courses, natural characteristics prevail in the two Natural Monuments of Pian Sant'Angelo and the Forre.
Corchiano then is the village of natural monuments. Deep rough cuts of the geological strata made by volcanic erosion, the ravines have over time determined the growth of the urban settlements and layout of the roads.

The ravines in Corchiano, with their peculiarities, have not only influenced the evolution of the fauna and flora, but have encouraged, over the centuries, the evolution of local man. This mechanism of co-evolution has, in this way, allowed the creation of a village very rich and deeply integrated in its natural and cultural components.
There are important witnesses of the past: prehistoric and prehistoric shelters and caves, various cuts and Faliscan graves, antique mounds, a hydroelectric station in operation until the early sixties of the last century, and the Via Amerina.

The ancient Via Amerina, after being a tool for the romanization of the territories north of Rome (241 BC) and a faith journey for pilgrims during the Middle Ages, today is an axis of conjunction between the two Natural Monuments of Pian Sant'Angelo and the Forre.
Corchiano a place to rediscover together and share the journey to proper conservation, enhancement and use of the territory.
Rural countryside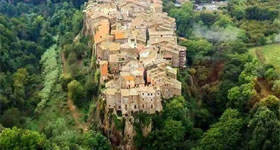 The Forre
Evidence of the past
The ancient Via Amerina